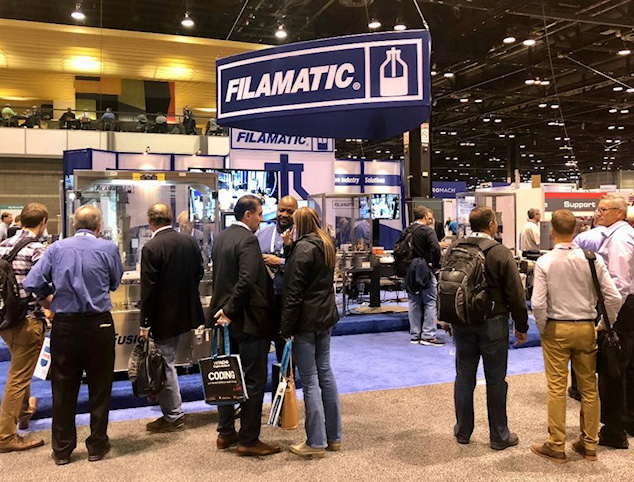 From March 21 to 23, 2022, Pack Expo East will be held in historic Philadelphia, Pennsylvania and the FILAMATIC team will be in attendance. Catch us at the Pennsylvania Convention Center right near world famous Reading Terminal Market. Visitors to Pack Expo East can meet with packaging manufacturers such as FILAMATIC and see a sampling of our innovative, reliable, and efficient liquid filling machines. You can find a massive variety of container, bottle, and packaging machine manufacturers attending this year. You can also see up-close all types of robotics, automated solutions, and many other essential elements from the world of packaging.
At FILAMATIC, we are looking forward to being back on the show floor, exhibiting our products, and meeting other packaging professionals. If you want to speak with the FILAMATIC team at Pack Expo 2022, you can find us at Booth #1708.
Every year at the Pack Expo East, nearly 7,000 packaging professionals attend to see solutions from roughly 400 exhibitors. Attending a packaging trade show is an excellent way to network and assess equipment in person, helping you make the best decisions for your company.

At Pack Expo East 2022, FILAMATIC will be showcasing a range of state-of-the-art liquid packaging systems. You can visit us at Booth 1708 and see LIVE DEMOS for information on:
Semi-automatic Handheld Benchtop Filling Machines
Cartridge Filling Systems: Fully-Automated Filling Solutions

VERSA5 – Automated cartridge filling machine

Fully Automated and Integrated Monobloc Solutions

Fusion2 – Fully automated, integrated Monobloc fill-torque-cap-label system
We can't wait to see you at Pack Expo March 21-23! Visit us at Booth 1708.
Specialists in Liquid Filling Systems
For over 70 years, FILAMATIC has been leading the liquid packaging industry with extraordinary engineering, visionary design, and industry-setting innovation. Fulfilling our founder's promise to consistently deliver flexible and customized solutions is what separates FILAMATIC from the rest. For more information on our liquid filling, capping, and labeling solutions, please email info@filamatic.com or call 866.258.1914. We would be happy to help you with your liquid filling project. Go further and do more with FILAMATIC.