Approach
A Methodology that Matters
We are a customer-centric and application based organization. Through years of experience, we have been involved with a wide range of projects across a multitude of industries. This vast experience allows the FILAMATIC team to apply lessons learned from a variety of liquid filling machine projects across as many industries enabling our partners the best solutions available.
Treating You Right
It is our focus to supply a competitive solution that will give years of fulfillment to your bottom line. Most of our partners are repeat customers. Why is that important to you? Because repeat business is an excellent indicator of how well we are meeting our project goals and developing long-term, positive partnerships with our customers.
Delighting customers means delivering excellence by providing the most appropriate, highest quality machine for your application, and supporting you with the highest degree of customer service.
We pride ourselves on outstanding customer relationship management. To ensure your satisfaction, FILAMATIC works with you before, during, and long after you have placed your order with us. This is a multi-stage process which our team has broken down into the following steps:
Phase I: PREORDER
The pre-order phase centers mainly on understanding your needs for fill rates, fill accuracy, and budget limitations. We'll also provide free testing to evaluate your products and containers.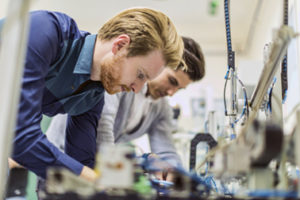 Phase II: ORDER
The order phase is monitored by your FILAMATIC Project Manager. The progress of your order will be scrutinized by your project manager and he will keep you up to date on our progress towards your Factory Acceptance Test (FAT) date.
Phase III: POST-ORDER
In the post-order phase, our skilled service technicians can assist you with installation, set-up and operation – as well as training. FILAMATIC also maintains a comprehensive inventory of spare parts.
Bottom Line Results
From a simple Benchtop liquid filling machine, to the customization of an entire automated production line, FILAMATIC is dedicated to helping you succeed. Large or small, we will help you achieve strategic goals, solve operational problems, and improve your bottom line. There are typically several solutions to a packaging application. Let us assist you and your colleagues with your next project.
For more information on FILAMATIC's history of quality service and cutting-edge solutions, please email info@filamatic.com or call 866.258.1914.