Technical Service
Experienced, Timely and Dependable
During the standard warranty period of your solution, FILAMATIC offers a strong combination of expertise and presence to ensure that you get the most out of your FILAMATIC system. Our customer-oriented Technical and Field Service organization is designed to suit your specific needs. Our tailor-made solutions can support you in improving your OEE, extending the serviceable life of the equipment, and minimizing your spare parts investment.
Spare Parts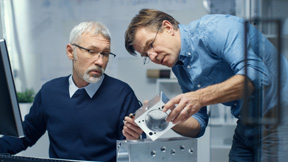 Although if/when necessary, a spare parts program is available for your needs. Our standard systems and custom machines are linked by a multitude of different spare parts. By using original parts from FILAMATIC, you will receive optimum performance and durability ensuring the availability of your systems and machines. In addition to our standard offerings, we can supply tailor-made spare parts for your individual requirements.
At FILAMATIC, we want to ensure that your equipment maintains quality performance, no matter when it was built. Downtime leads to lost revenue. In some cases, the lead times and costs may be higher due to the age of the units. In addition, we can supply tailor-made spare parts for your individual requirements.
Program features and benefits
Manufactured based on the design of the system.
Correctly configured, set up and documented.
Tailored spare parts kits.
Spare Parts maintenance and repair.
Supply of loaner devices during repairs to maintain production.
Factory part-exchange policy for warranty issues.
Customized solutions for optimized parts stock.
Field Service
FILAMATIC offers a strong level of expertise to ensure that your packaging machines receive the best possible care.
Well-trained Field Service Engineers equip your machines with high-quality original parts. They can support you in other ways, as well, whether it is in developing your maintenance program, supporting production ramp-ups, auditing equipment performance, or conducting training. Our strong on-site presence and tailor-made service enables us to support you in reducing your machine downtimes to a minimum.
Program features and benefits
Optimum on-site support from Field Service Engineers.
Customized production support.
Engineer, maintenance and operator training on-site.
Reducing downtime through optimization, upgrades and retrofits.
Applications support.
Technical Service
FILAMATIC includes free 8 x 5 telephone/email support for all active products, premium 24 x 7 support and used equipment support.
For more information on our Technical Service programs, please call 866.258.1914 or email info@filamatic.com.
Factory-trained Technical Service Engineers are dedicated exclusively to servicing FILAMATIC Packaging equipment. All service technicians are trained regularly and participate in ongoing, hands-on training. Optionally, FILAMATIC can offer remote diagnostic capability with its solutions.
Program features and benefits
Expertly trained Technical Service engineers trained to quickly troubleshoot.
Quicker resolutions of unexpected problems (80% of calls resolved without need for Field Service Engineers).
Optional remote access to machine control systems to troubleshoot.
Block Service
Provides a reserve of support time (blocks) at scaled discount rates to use for virtually any service requirement. These prepaid book of hours are redeemable for FILAMATIC Support Engineers on site and offer a very flexible, convenient and responsive option.
Program features and benefits
Savings grow as you purchase more hours.
Flexibility to apply hours against virtually any service requirement.
Proactive Maintenance Programs
FILAMATIC offers customized Maintenance Programs (MP) for most systems, regardless of age.
Maintenance Programs (MPs) provided planned and technically skilled support to operate, evaluate, and maintain Filamatic systems.
Program features and benefits
Prolong the useful life of your equipment. Our equipment lasts a long time and even longer, when properly maintained.
Reduce unplanned down time.
Ensure high system availability
Site Support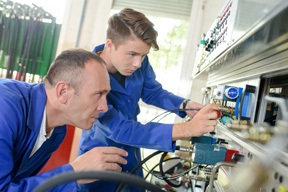 Including diagnostics and repair, regular audits, applications support, machine enhancements and technical support.
FILAMATIC provides this service to customers who want to take full advantage of FILAMATIC's expertise to ensure the availability of their systems and machines. Take advantage of the wide range of experience of our Field Service Engineers for efficient maintenance, support, and upkeep of your machine.
Program features and benefits
Optimum support throughout the entire life cycle.
Preventative maintenance and proactive service.
Short response times.
Efficient maintenance of complex systems.
Application, technical and machine support.
Extended Warranty
We provide a one-year warranty agreement that is only available when a machine or system is sold by FILAMATIC. Our standard warranty typically includes:
Full telephone support capability from our Technical Service Engineers.
Parts supplied from our Spare Parts Warehouse.
Site support from our Field Service Engineers.
After the warranty period expires, customers can move to a pay-as-needed or a customer can select an annual support contract or a multi-year support contract. These support packages can be customized to meet your specific technical and budget requirements.
For more information on customized service options for your specific applications, please email info@filamatic.com or call 866.258.1914.