Attending a packaging trade show or related industry event can be a great way for businesses to promote themselves, meet new customers and see the latest innovations in packaging equipment. However, given the size of some conferences, it's sometimes challenging to see the entire show, or visit specific companies on your to-do-list.
We are going to go over a few different ways that you can get real value from attending shows and industry events – what you need to be aware of, how to effectively manage resources, as well as best plan your time.
What shows should you attend or exhibit at?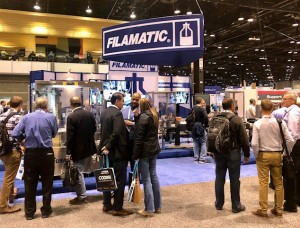 Research and Develop a Plan
Attending or exhibiting at a packaging trade show can take a lot of work, so proper planning is paramount. Before you start spending money on any trade show or conference, perform the necessary research, develop strategies and remember to answer the single most important question, "why are you attending/exhibiting at this packaging show?"
Ask Customers and Colleagues
How do you stay away from the less attended shows, and learn which ones are the more productive, well-attended shows? Just ask… who better to ask then some of your customers that have experience throughout their different industries. Often your customers and industry colleagues are happy to tell you which ones they believe would be more advantageous for your specific goals and objectives.
Always be networking and talking with people up and down the business line. Be engaging, sincere, people are often open to talking about their show travels… highlighting good and bad experiences. You shouldn't come to a final conclusion on one person's feedback, but it may help add to an overall, more comprehensive review for you. Attending or exhibiting at trade shows and conferences can cost a lot of money, so it's well worth the effort.
Online Reviews
Social Media is a great way to see what the different packaging trade shows are doing online. Again, it's only skin deep and part of your overall evaluation, but you can still find a wealth of information of what people are saying, sharing and doing online in regards to their show experience. Generally speaking, every trade show across industries has a different audience make-up, different types of vendors and different types of social channels that may work better than others.
Also check real time and live feeds, such as Facebook Live and Twitter. See what people's reactions are to the packaging show that you're evaluating, and see if you can find show hashtags to see what people are saying. If people like a particular show, they often say it and will advertise their experience. If people do not like a particular show or having a bad experience, they may not always publicize that, but you may see less online posts regarding the event. Some comments you always need to take with a grain of salt. However, this will help you round out an overall image of the show, and if it is worth your time and money in the future.
Walk before You Exhibit
Before you invest within a booth space, it's always a good idea to walk a specific packaging show or conference the year prior. This gives you a feel for which companies are attending, foot traffic and the overall value of the show (to you and your business). Of course, things can change for the better/worse from that time, but it gives you a real-time measure of the show.
Make sure to take notes and check who is attending and how busy the show is. If you gained value from meeting people at the show and true insight into the packaging industry you wouldn't have otherwise, then it was a good show to attend. If not, you might want to keep walking other shows to see what works for you and your company.
Meet the people that matter to you…
Obviously, one of the main benefits of attending a trade show is networking and meeting with people face-to-face. Your main goal may be to simply network, reconnect with old faces and meet new ones, or your objectives may be something much more tangible. As we previously noted, remember to always ask yourself the question, 'why are you attending/exhibiting at this show?'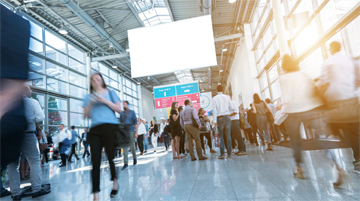 Create target lists
Prepare a target list of companies and people that you want to see and meet, equipment suppliers, OEM partners, set up specific meetings with end-users, if warranted. For those shows that offer an app, you can do this by going through the app and identify those companies, people, booth #'s and hall locations, so you save time on the show floor. In some cases, you can even schedule visits/meetings through the show's app, allowing you to cut through the masses of people, and meet with the people and companies most important to you.
To be, or not to be… an Attendee or Exhibitor
By now, you know that packaging trade shows and related industry events can be a great way to reconnect with current customers and establish relationships with new ones. You want these customers to know that they are always on the forefront of your mind and that their success is extremely important to you. Nurturing these types of relationships and listening to their feedback can also help influence new products, services and solutions. They can shed light on what their needs are for today, as well as what they may need for tomorrow's packaging business.
Attending these types of events also allows you to see what other like-companies are doing within your industry… don't be surprised if they're doing the same type of research on you. In essence, you're seeing what the competition may/may not be doing… how are they presenting their products, what types of solutions are they offering different than yours, how are they presenting, did they bring everything but the kitchen sink, or were they more strategic in what they are showing at the conference. When reviewing your potential competitors, you should be asking yourself these types of questions.
Training and Attending Seminars
Packaging shows, or trade shows and conferences, in general, are a great way to educate not just your customers, but also new and old employees. It's a chance to let new employees see how your industry operates and what questions and concerns are important for current and potential customers. It's also a great way to train current employees on new product launches and new equipment features.

The benefits of this type of training are invaluable and it's rather difficult to get this experience unless you go attend a show.
General awareness and education can also extend to your customer base with new after sales service and support programs. It's a great opportunity to showcase these types of programs, training, and support options that may have been newly released. You can run workshops or small seminars about specific product lines and train customers on-the-spot.
New Product Launches
If you're exhibiting at a show, it could be a fun and exciting way to launch and bring a new product to market. Industry events are the perfect time to execute such launches as show organizers will leverage these new offerings across their show media channels. It's also an exciting time for everyone on the team executing the launch; it can be incredibly rewarding for those individuals involved, as well as the entire organization.

Show Products
When showing goods and services from your product line, it's extremely important to put your best foot forward. In these instances, people do judge a book by its cover… so you need your products, services and overall solutions to represent your company well and communicate the brand with strength and clarity. Everyone in your company and organization should understand the importance of building, shipping, and setting-up the products properly for a show. It can reflect well or poorly on the overall organization.
Remember trade shows, seminars, and industry events are a great way to get into the marketplace, grow the brand, and establish a strong footprint, but they can be time-consuming and resource hungry on an organization. Therefore, it's extremely important to do your homework and target the right shows for you and your business. These types of events may not always provide an immediate return; however, when you're reconnecting with current customers and establishing new business relationships, you are always sowing the seeds of success. If you have questions on which FILAMATIC liquid filling solution is right for your needs, please call 866.258.1914 and ask for Customer Service, or simply email info@filamatic.com.