Regarding automated liquid filling equipment, you may ask, "What is a Monobloc?" Industry experts define a Monobloc as a fully-automated, integrated liquid filling machine that performs multiple functions: filling, capping, stoppering, over-capping and labeling functions. Monoblocs are also going through somewhat of a required renaissance. Given the variety of products, complexities of applications, as well as new, emerging customer needs, Monoblocs are going through a transition as it relates to design, finish and overall function. The following will discuss a few interesting trends with Monoblocs over the years.
Applications
Depending on the customer or application, today's equipment manufacturer must be able to provide a standardized solution, as well as one that's customized from the ground up. It can be a challenging proposition, but for those agile enough manufacturers with flexibility and innovation built into their processes… it can be a very rewarding one.
And as the need for more flexible solutions continue to grow, they also need packaging systems that can easily integrate with other ancillary solutions. For instance, Monoblocs are now better equipped to incorporate different types of labeling solutions… within the system, outside the system, standard, vertical vs horizontal labeling… you name it, today's Monoblocs needs to be able to adapt and work on a variety of levels.
Commodities (i.e. Containers, bottles, vials/etc.)
Monoblocs can handle a large range of commodities – anything from 1ml up to 1-liter. Most of the time you will see Monoblocs executing smaller fills with smaller commodities (e.g. vials, microvials and microtubes) with small screw caps.
Nowadays, you see equipment manufacturers hearing more and more requests for their Monobloc to handle a wider range of commodity sizes. The more different commodities a filling machine can handle, the better the justification is for the cost of the entire liquid filling system. However, one of the challenges with multiple sized containers on one machine can be the growing number of changeover parts, as well as time in changing over from one container size to another. The flexibility may justify the overall direction, but these are all things one must consider.
Due to fielding a wider array of containers, a Monobloc may become larger in footprint. You will certainly have more changeover parts, but now may have to better assimilate potentially larger changeover parts (e.g. a larger turret). You may ask, "so what, what does a larger turret impact?" Depending on commodity sizes and fill volumes, a larger turret may make your Monobloc run at a slower speed, lower throughput – given that particular size commodity. Dealing with varying speeds, fill volumes and different commodity sizes can pose somewhat of an engineering challenge, but it's certainly an achievable end-deliverable when discussing Monoblocs solutions.
Metering Systems (Pump types)
Monoblocs can be installed with different types of liquid filling metering systems. This includes piston style pumps that go all the way down to small micro-liter fill volumes. Typically, a Monobloc executing a very small and accurate fill will use a small rotary piston pump. Of course, you have the ability to integrate other metering systems depending on the application.
Over the past few years, manufacturers are seeing an increase is peristaltic pump use. There is no cleaning validation required with peristaltic pumps since they are single-use tubing. Typically Monoblocs with peristaltic pumps are used by the biomedical and pharmaceutical industries, but their popularity is increasing with the perceived changeover benefits.
End-User Requirements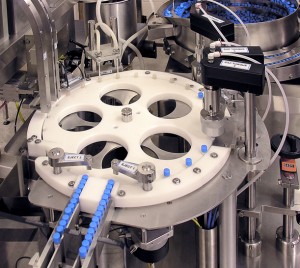 As with any liquid filling project, the primary consideration is what are the end-user requirements? That is, what is the objective of the project?
Is it a challenging pharmaceutical application? Does the project require a HEPA (high efficiency particulate air) filtration system? Do you need an extremely accurate fill? Does your fill volume need to be visually inspected via sensor?
Space and Size
When you consider what a Monobloc does, it would seem like it should take up a lot of space… and some still do. However, Monobloc footprints are trending down. That is, customers are dealing with less and less space within their facilities, so it's an ideal selling point, end solutions that can fit into tight spaces. The trick is reducing the footprint of a Monobloc without losing any of its robust features.
Automation
When choosing a Monobloc, the main reason a company would choose this style of machine is for liquid filling automation. More and more customers are thinking long-term and costs across the board, so they are making strategic decisions in reducing the number of operators that it takes to execute their production. How much automation is necessary to achieve that objective is up to the customer.
Bottles
Bottle design is another important thing to think about with Monoblocs. What type of bottle, size, and shape are you going to be filling?
Monoblocs for the most part can handle a wide variety of different bottles. Like we discussed above anything from 1ml up to 1-liter in size. Monoblocs can fill glass or plastic bottles easily.
A newer trend that's occurring is seeing more airless pumps bottles (Airless pump bottles move upwards and pushes the product up through the cap) being used. These are ideal for thicker products like lotions, creams, gels, or even different types of medication since these have a thicker viscosity as well.
HEPA Filtration
Manufacturers are also experiencing a growing request for more High Efficiency Particulate Air (HEPA) filtration units on Monoblocs. HEPA filters help remove 99.7% or more of particulates in the air, making for an extremely clean environment for filling.
HEPA filters are typically mounted on top of the Monobloc and push the clean air down. We normally see HEPA filtration units installed on pharmaceutical, diagnostic and even some biomedical applications.
Manufacturer's Enhancements
Over the years, liquid filling machines, Monoblocs in particular, have seen improvements in fit and finish as well as their overall design and aesthetics.
Monobloc Design Updates
Nowadays, a Monobloc can look like a piece of metallic art – extremely shiny, mirror-like finish in some instances, as well as encompassing state-of-the-art technology. In some instances, you may find it hard not to look away after gazing at a well-designed, beautifully put together Monobloc.
Manufacturers are also offering more versions of Monoblocs in the form of Tabletop Monoblocs or Mini-Monoblocs. Given the overall cost and size of a system, coupled with potential limited floor space, it's a throwback trend that we are seeing more on the market today. This movement will likely continue as customers want more automation in a smaller footprint with an affordable price tag.
Servo-Motors
Another updated feature that isn't so much new, but you are seeing more and more use of servo-motors. A servo-motor is specially designed motor that helps with linear positioning during the filling/capping process. These types of motors help place and torque screw caps on containers. Servo-motors allow specific torque-specs to be met on screw caps. This way you know each cap is torqued correctly so there is no spillage. This process also allows for a substantial amount of data to be recorded and analyzed as well.
In general, the liquid packaging industry is ever-changing from year to year. Therefore, do we see Monoblocs going through a natural evolution, or an end-user and manufacturing revolution? The answer is, "Yes!" We see the needs of current customers continue to develop in exciting ways as their product line grows. We also see a new audience coming from those new and emerging industries. They too have interesting new products that require a whole host of different considerations when discussing their liquid filling needs. It's a challenging, but exciting time for equipment manufacturers. New industries, emerging markets, bold, new customers with exciting products, what better time is there then now to be creating these bold, new and innovative solutions.
For over 65 years, FILAMATIC has been successfully serving the Pharmaceutical, Diagnostic, Medical, Biotech, Health/Personal Care, Cosmetic and Food/Beverage industries. To request more information on FILAMATIC's liquid filling solutions, please call 866.258.1914 and ask for Customer Service, or simply email info@filamatic.com.