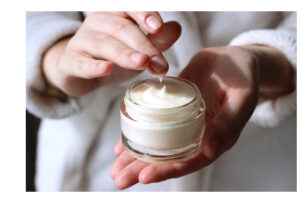 Today, we'll be getting an inside look at handheld filling machines with Warren Copper, a packaging industry insider and expert on semi-automatic filling solutions. He is FILAMATIC's National Benchtop Series Manager and will explain how these filling systems have become an incredibly popular system with today's companies looking for a quality, accurate, and reliable filling machine. In general, these semi-automatic handheld filling machines can fill a wide range of liquid products, but can they fill thick, viscous liquids like gels, creams, and lotions? It's a good question.
What is a handheld filling machine?
Let's first start off by briefly explaining what a semi-automatic handheld filing machine is. As Warren layouts a basic understanding of these fillers, FILAMATIC's popular models are known as the Benchtop Series filling machines. But in general, handheld fillers range in size and come with a very small footprint as most models will easily fit on to your table during production. This is ideal as most companies experience some limitations when it comes to cleanroom or laboratory floorspace.
And depending on your application, you may require a machine that either has a single, dual, or multi-nozzle configuration with an equal number of pumps. Warren says, "These semi-automatic fillers are great for small to medium-sized batch runs, simple to setup, easy to operate, and have quick recipe changeovers – and that's really the name of the game!"
But how do these handheld fillers perform when it comes to dispensing those thicker, more viscous type liquid products? And what's the best setup necessary to successfully execute this type of production – let's take a closer look.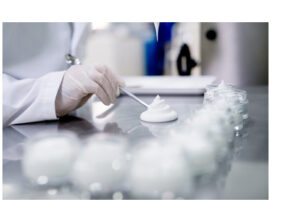 Can a metering system impact your filling?
As you choose which handheld filler makes the most sense for you, does the metering system make a difference when dispensing semi-viscous to viscous products? Warren notes, "The short answer is yes!" There are a variety of metering systems, peristaltic, lobe, gear, and piston pumps to name a few. However, when you're dispensing a more viscous type of product with your handheld filling machine, 9x out of 10, the best metering system for this type of application is going to be a piston pump setup."
Piston pumps can be incredibly accurate with your fill volumes as well as have the necessary power/drive to dispense your gels, creams, lotions, and other types of viscous products. So, when dispensing semi-viscous to viscous liquids, FILAMATIC's Benchtop Series filling machines work extremely well when setup with FILAMATIC's proprietary piston pumps. The formal combination is widely known throughout several industries (pharmaceutical, diagnostic, and cosmetic) as one of the more robust, dependable, and highly accurate filling systems – capable of dispensing a variety of semi-viscous to viscous products. Within a piston pump format, handheld filling machines can dispense roughly 95% of liquid products – that's fairly all encompassing.
With Warren's industry experience, he notes, "These solutions are often the preferred resource for OEM's that require a single, quality, and versatile filling unit." And although there may be many different types of applications across as many industries requiring some additional configuration, it's still a relatively simple plan of attack with either an analog or digital signal setup from the customer's packaging system to initiate the fill process.
Is there an optimal speed for filling viscous liquids?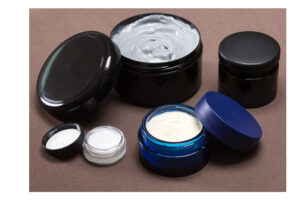 Whenever one discusses optimizing manufacturing, we're basically talking about increasing throughput while maintaining or improving desired levels of quality. So, how do we do this and is there an optimal speed for handheld fillers filling viscous liquids? Warren chuckles somewhat, as if he's heard this question a few hundred times before and comments, "That's a common but still interesting question as every recipe or viscous liquid product will have its own range of thickness or viscosity. However, the general rule of thumb is a steady pace will always win the day and keep your system running smoothly with less downtime."
As we reviewed FILAMATIC's handheld filling system, we were able to see that the Benchtop Series machines (e.g. AB Series) has an easy-to-use, easy-to-access speed dial that the operator can quickly access and control. As Warren commented, "if you run your machine at an incorrect speeds, it could lead to pump starvation, leading to inaccurate fills and even damaging the motor/drive, pump, or other mechanical components on your filler." So, our general takeaway from Warren's comments was that each operator needs to better manage their unique production process and decide what speed makes sense when dispensing their specific product – there's no cookie cutter answer here, which makes sense. But he did underscore how certain handheld filing machines, especially the Benchtop Series fillers, comes with a level of flexibility and control that gives your business better control of your production requirements.
Can product pathway help make a difference?
Also, can adjustments to the nozzle, tubing, or even valve sizes on your handheld filling machines impact filling semi-viscous to viscous products? Warren happily nods and notes, "It most certainly can… when dispensing water-like liquids, you'll have a larger pool of metering systems to choose from, which is a good thing, and your valve, tubing, and nozzle size really won't come into play as much – for water-like products." But he makes a significant turn when discussing semi-viscous to viscous products, "However, whenever you're dispensing semi-viscous to more viscous types of products like gels, shampoos, and creams, you may want to open things up a bit more." Literally, he says, "That is, the size or diameter of your tubing and/or intake and discharge valves … that sometimes can make a dramatic difference when dispensing thicker, heavier products. Think of trying to put out a fire using a straw versus using a larger fire hose – the larger capability/pathway can open up the product flow and make a world of difference."
Does the position of your product reservoir matter?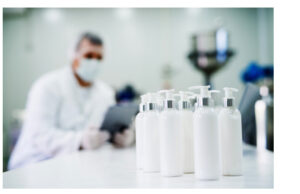 One area that people often overlook that may have some impact on dispensing semi-viscous to viscous products is the position of your product reservoir. So, does it make a difference if your product reservoir is at floor level or in a higher, gravity-fed position? Here, Warren highlights the flexibility of FILAMATIC's Benchtop Series machines detailing their ability to mitigate this overall scenario, "in the past, I've personally seen the Benchtop Series fillers have success with both types of arrangements." But he confirms that there really is no one-solution approach for all – every customer, every product, and each application is certainly unique. "So, it's really contingent upon your specific product and project in terms of what works best for your production needs, but the flexibility of the Benchtop models gives you a solution that works with your business in either format … so, this type of system flexibility is key." We would recommend trying your floor level first to see as that's the easier, quicker setup to initially start your application.
Can changes in temperature help fill viscous liquids?
Warren notes, "by now, we all know that most semi-automatic handheld fillers do a great job at dispensing water-like products, but also do well at filling semi-viscous to thick, viscous liquids."
But they can still do even more, he briefly discusses how those more firm, seemingly solid completed products such as lip balms and deodorants can be dispensed by handheld filling machines through a molten product state. So, if your product needs to be filled at an elevated temperature due to its heavy viscous properties, handheld filling machines are still ideal filling solutions to complete this task. You'll simply need to warm your product either at floor level or in a higher positioned, heat-wrapped reservoir; this will help maintain the necessary temperature to keep your product in a flowing molten state – then easily dispensed by your handheld filler.
Specialists in Liquid Filling Systems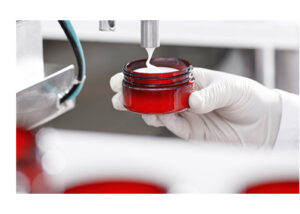 Ultimately, there are many different types of handheld filling machine brands. Most are flexible enough to field a variety of simple, straightforward applications. However, that list of filling machines certainly shrinks when discussing desired levels of quality, accuracy, reliability, as well as filling semi-viscous to viscous liquids. Warren notes how FILAMATIC's semi-automatic handheld Benchtop fillers are well-known for being just that – quality, accurate, and affordable solutions. And he confirms that it's always best to work with your representative to identify the best matching solution for your needs. It's important to identify an accurate solution so you're not purchasing too much/too robust of a system, but also that you're acquiring a filler that will successfully dispense your liquid products.
He goes on to identify the quality and affordable line of semi-automatic Benchtop Series fillers:
AB series: Single nozzle handheld filling machines that work with a single pump, great, mobile, easy-to-use/easy-to-changeover fillers.
DAB series: Dual nozzle handheld filling machines that work with multi-nozzle configurations, solid, mobile fillers that have the ability to scale and grow with your business in becoming a more turnkey automatic fill-cap-label system down-the-line.
SmartFIL/AdaptaFIL systems: Single nozzle fillers with an HMI (touchscreen user-interface) capable of integrating different types of metering systems and ability to store up to 100 recipes.
Heavy-Duty series: Multi-nozzle solutions that can better dispense larger volumes of extremely viscous liquids, usually coming with its own table or stand (may require compressed air).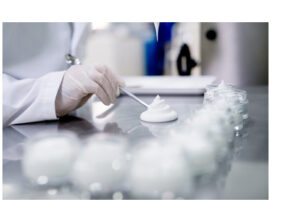 In closing, Warren reiterates how handheld filling machines can be "flexible, reliable, and accurate" filling systems when filling a range of products, but also when looking to dispense semi-viscous to viscous liquid products. Specifically, he comments on how FILAMATIC's Benchtop Series fillers are "easy-to-use and easy-to-changeover" systems.
In addition, he's a big proponent of not going at it alone and again underscores how he believes it's a great idea to work closely with your prospective vendor: discussing product characteristics & applications requirements, open and honest conversation on expectations, and sharing product samples to ensure through testing that your product is capable of being dispensed via your prospective vendor's equipment. Warren notes that product testing is a common request and practice that FILAMATIC is happy to perform. Yes, it may add some time to the frontside of your project with the additional coordination, but he believes it's a smart move and your vendor should be happy to do it if the customer makes the project request.
For more information on handheld filling machines or complete liquid fill-cap-label systems, please email info@filamatic.com or call 866.258.1914. Unique performance. Undeniable quality. Unrivaled support. Go further and do more with FILAMATIC – Specialists in Liquid Filling Systems.