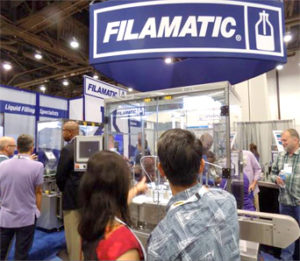 Coming up on September 11 – 13, #FILAMATIC will be attending the #PackExpo 2023 conference in fabulous Las Vegas, Nevada. The largest US packaging trade show of the year; it's where you will see it all from the packaging industry. You will see mountains of containers, all types of bags and labels, conveyor suppliers, robotic technology in play, big and small scales, a myriad of vision/camera systems, as well as different kinds of filling and capping/closing machinery, and much, much more from the world of packaging. With that said, we are excited to show our 2023 liquid packaging solutions – grown from innovation and contemporary design, and nurtured with a strong, well-known, and reliable partnership. You will see all this and more in the #FILAMATIC booth – Central Hall #3809!
If you are interested in attending #PackExpoLasVegas 2023, please use the #FILAMATIC complimentary link for FREE SHOW REGISTRATION!
If you're attending the show, be sure to preschedule a convenient date/time for your in-booth visit. This will allow us to have the necessary personnel specific to your project available to answer all your questions.
If you are unable to attend, we still got you covered! We can schedule a LIVE DEMO straight from the show floor to the comforts of your home or office – SCHEDLUE LIVE DEMO NOW!
At this year's #PackExpo2023, we will showcasing a wide range of liquid filling solutions:
The Benchtop Series: semi-automatic, tabletop handheld filling machines
Inline Filling Systems: Complete fill-cap-label bottling lines
Cartridge Filling and Capping Systems: fully automated packaging solutions

CartRunner – Automated cartridge & disposable fill/cap system

Fully Automated, Integrated Monobloc Packaging Systems
We are excited to be attending #PackExpo2023, so please be sure to visit us in BOOTH C-3809!
Specialists in Liquid Filling Systems
For over 70 years, #FILAMATIC has been leading the liquid packaging industry with extraordinary engineering, visionary design, and industry-setting innovation. Fulfilling our founder's promise to consistently deliver flexible and customized solutions with a strong, reliable partnership is what separates #FILAMATIC from the rest. For more information on our liquid filling, capping, and labeling solutions, please email info@filamatic.com or call 866.258.1914. We would be happy to help you with your liquid filling project. Go further and do more with #FILAMATIC.
trending terminology for PMMI/PackExpo: #packexpo #packaging #pharma #pharmaceutical #medical #fillingequipment #handsanitizer #packaging #liquidfilling #packagingdigest #packagingautomation #liquidpackaging #filling #semiautomatic #handfillers #fillingmachines #pistonfilling #peristalticfilling #volumetricfilling #pmmi #diagnostic #medical #assaykits #contractmanufacturing #copacker #tech #technology #handsanitizer #sanitizer #liquidfilling #liquidpackaging #packaging #covid19 #coronavirus #handsanitizers #sanitizers #lasvegas #vegas #nutraceuticals