The increased need for quality liquid filling machines continues to rise across a variety of industries. These solutions are used to dispense liquids (water-like, semi-viscous, and viscous type products: gels, creams, lotions, etc.) into many different shapes and sizes of containers. Naturally, there are different types of filling machines available for different types of applications.
Below are the 4 main types of liquid filling machines you will typically find in the liquid packaging space.
1. Hand-Operated Filling Solutions
This type of liquid filling machine requires no electricity and is only operated manually by hand. While accuracy can vary depending on product and application, these types of solutions still help with increased accuracy and output speeds when compared to simply filling by hand with no use of any instrument.
These types of entry-level hand-operated liquid filling machines are best used for small scale production needs. These are also a great choice for use in a location where an external power source is unavailable or unreliable. These machines are suitable for a wide range of free-flowing liquids but not ideal for viscous or heavy liquids. They may also not satisfy certain industry requirements so it's best to truly review your needs today and tomorrow before investing heavily in a manual filling solution.
2. Semi-Automatic Filling Machines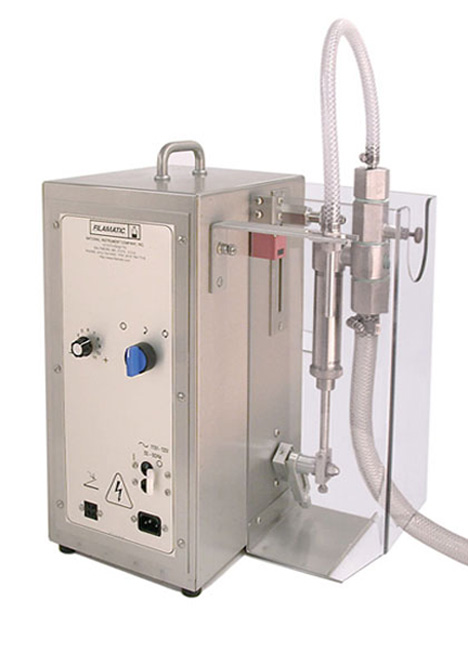 Semi-Automatic Filling Machines are ideal when a company requires more accuracy, reliability, and repeatability. These types of filling machines can also reduce the technician's fatigue from filling manually.
Often referred to in the packaging industry as "Benchtops" or "Benchtop fillers". They are usually smaller and are able to be placed on a benchtop or workbench. However, some Benchtops can have a freestanding base and are designed for larger fills.
Benchtop filling machines can work with almost all kinds of liquids, from personal care products to pharmaceutical applications. They also can feature different types of pumps, which commonly include piston pump and peristaltic. Semi-Automatic Filling Machines are best for small-to-medium scale batch production runs.
All types of companies can use Semi-Automatic Filling Machines from small start-up companies to large multi-national corporations.
3. Inline Filling Machines
Inline Filling Machines are the next step up and show that you are at a higher level of production. Inline Fillers fill "inline" on a conveyor system and can be used to dispense all types of liquid products which include food & beverage, cosmetics and more.
They can handle a wide range of container sizes and this includes larger fills. Especially liquid filling not ideal for Manual Filling Machines or Semi-Automatic Filling Machines.
With an Inline Filling Machine, you can find additional types of packaging machine integration and automation components. This can include a printer, labeler, shrink bander, turntables, capper and more.
These additional machines help reduce the time-consuming manual labor of labeling and capping. A common request we see with Inline Filling Machines. While some steps might still require a technician's guidance, the automation level is still a game-changer for many companies packaging production at this level.
Inline Filling Machines are ideal for companies that need to increase production rates to meet demand. Typically medium – large companies of all types purchase Inline Fillers.
4. Monobloc Liquid Filling Systems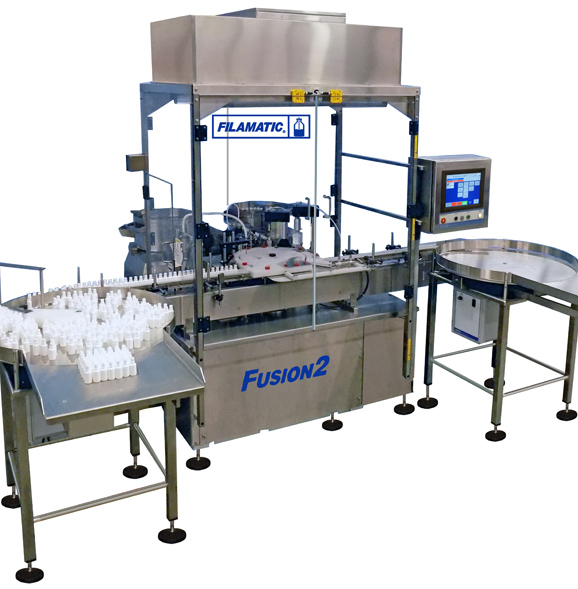 Monoblocs encompass the highest level of automation and technology when it comes to liquid filling machines. Monoblocs are fully automated liquid filling systems that can execute a high number of actions regarding the filling and closing process. Some Monoblocs can handle the uncapping, filling, re-capping and much more when it comes to ancillary equipment.
The bottom-line, though Monoblocs work for large-scale packaging operations at high-production speeds. Efficiency and high-speed make it a popular choice for larger enterprises. Monoblocs are great for medium-to-large scale production. Monoblocs can be used to fill all types of liquid products and are used across a wide range of industries.
Automation at this level, coupled with ancillary requirements needed per industry or application can come with a high cost. These solutions are ideal for medium – large companies with extensive production requirements.
Depending on your company's liquid products and filling needs, one of the above liquid filling machines is typically ideal. To get a better understanding of what will work best for your specific application, we recommend reaching out to us and continuing the conversation. You can also email us directly – info@filamatic.com – and we will be happy to discuss your liquid filling project.
Specialists in Liquid Filling Systems
For over 70 years, FILAMATIC has provided a wide range of liquid filling machines to the packaging market. We create flexible, customized solutions for every stage of your business growth. Whether you require a single machine, a complete turnkey fill-cap-label solution, or a fully automated, integrated Monobloc system, we have the liquid filling experience for your project.
For more information on liquid filling, capping, and labeling solutions, please call 866.258.1914 or visit – www.filamatic.com/contact-us.