Normally, buying liquid filling equipment and choosing your metering system goes hand-in-hand. Today, we'll focus on a few different pump options: Piston, Peristaltic, Lobe & Gear – the advantages and disadvantages of each metering system.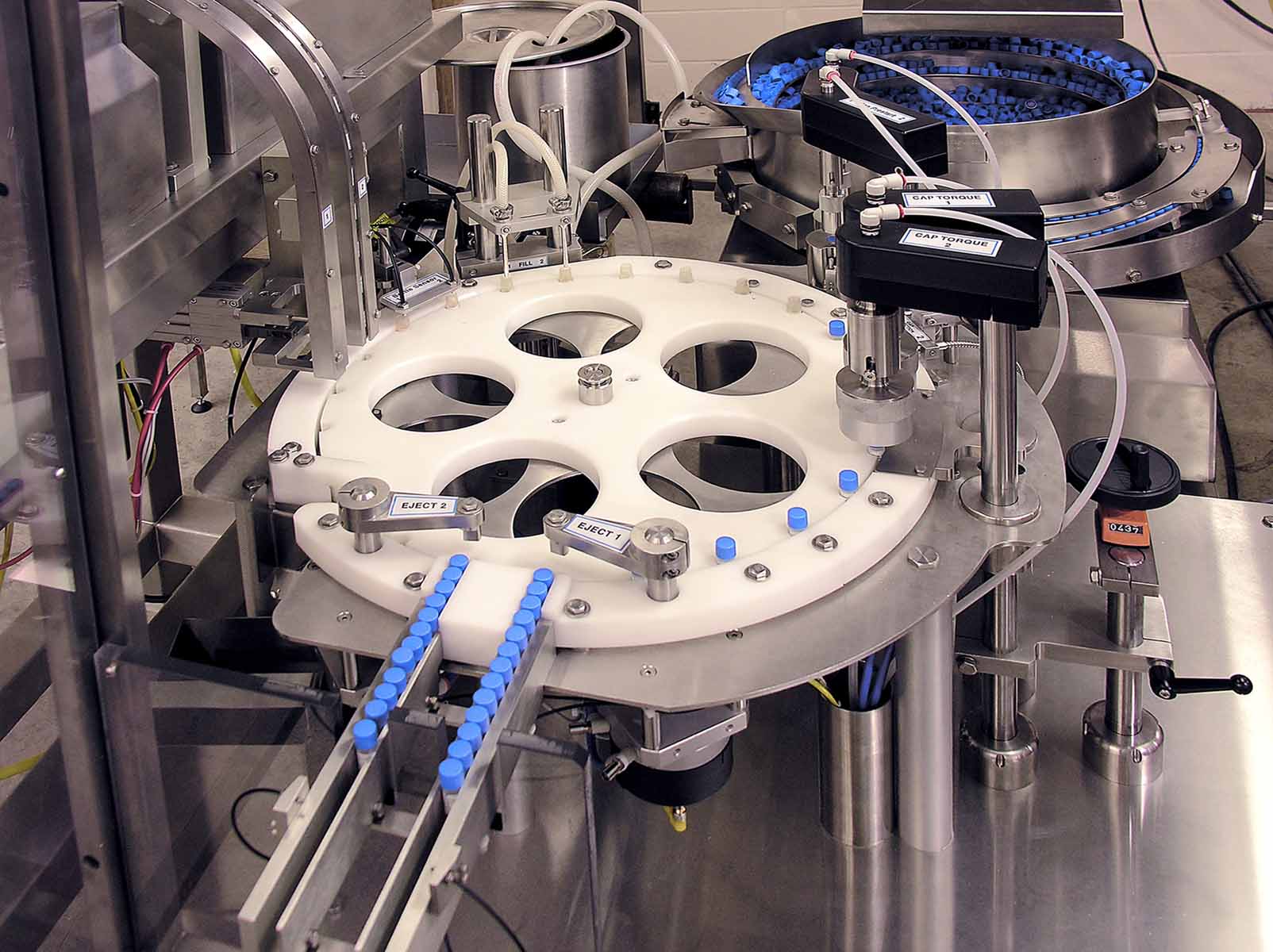 Piston
Sometimes simply referred to as a "piston pump" these come in many styles and flavors.
There are many advantages to a piston pump. They are reliable in operation, specifically in repetitive accuracy. A piston pump will stroke the same distance each cycle all day, giving you an incredible pinpoint accurate fill. A somewhat still unknown aspect of the piston pump is exactly how easy changeovers are, or how a technician can easily disassemble and clean this type of pump system.
If you couple a piston pump system with an electrical servo-motor integration, the results of your liquid filling will be extremely accurate. We are talking an accuracy level within a 0.5% range. Piston pumps can be reasonably priced for most applications. There are other styles of piston pumps that encompass different price points as well as fill accuracies.
Piston pumps are ideal for liquid filling within a wide variety of industries: biomedical, pharmaceutical, diagnostic, cosmetics/personal care, food/beverage, as well as specialty chemical industries.
Peristaltic
Peristaltic pumps are great for applications that require no metallic contact. They are best for moderate to large filling solutions in the 50ml – 1100ml range. The peristaltic pump system offers a simple setup and operation with filling accuracies that range between 1.0% – 2.0%. At times, it can be necessary to often replace tubing with peristaltic pumps – which is something to consider when going this route. When regularly replacing a consumable such as tubing, some customers may find this an unappealing option. However, if your production schedule is thoughtfully coordinated, you may save money in the long run with a peristaltic pump system.
Peristaltic pumps can also be an ideal option for the pharmaceutical, diagnostic and biomedical industries. These types of sensitive, high-changeover applications can make this type of metering system a sought after, but somewhat pricier option.
Lobe
Lobe pumps are machined to an extremely high tolerance and can handle high pressures. Lobe pumps are well suited for large fills, anything from two ounces up to one gallon.
A lobe pump will operate well horizontally or vertically and are rather easy to maintain.
Lobe pumps are 3ADairy rated, which means they are ideal for dairy product filling applications. In addition lobe pumps can be used for personal care, cosmetics, food and some pharmaceutical uses. Lobe pumps are best suited for diagnostics applications. They are a sanitary filling solution and ideal for liquids that are quite viscous in nature.
Since lobe pumps are machined to a high accuracy this makes them a rather expensive pump choice. They are worth the cost though if you want an accurate and clean filling pump solution. They fill within a 1.0% and better range.
Gear
Gear pumps are ideal for high volume filling. This would mean cleaning liquids such as car wash soap. You can also use them for beverages and cleaning chemicals.
The main advantage to a gear pump is they are inexpensive compared to lobe, piston, and peristaltic pumps. Cleaning and disassembling with gear pumps is easy. Gear pumps are offered many types of materials for different uses are quiet when in operation.
This metering system tends to be the least accurate of the above pump systems, but with high volume filling it usually isn't as much of an issue. Gear pumps also must be gravity fed, since they design doesn't allow them to draw fluid from a floor level.
One of the biggest advantages of gear pumps is the speed of filling – which is important when you're filling volumes as high as 20-liters.
In closing, there are still different liquid filling pump systems available for your review. However, the above highlights those primary pump options. The piston, peristaltic, gear and lobe pump options all have different strengths and weaknesses. The important thing to remember when choosing your pump style is always keeping your specific application and product characteristics a part of the conversation.
Liquid Filling Machine Specialists
If you have questions on which FILAMATIC liquid filling solution is right for your needs, please call 866.258.1914 and ask for Customer Service, or simply email info@filamatic.com.