The packaging industry is growing leaps and bounds with new applications, emerging technologies and constantly evolving industry requirements. With that said, nevermore in demand are solutions from the liquid packaging side of things. Whether we're talking about a single handheld filler, a complete Inline filling system, or a fully-automated Monobloc solution, there are just as many questions as answers when looking at different levels of liquid filling equipment.
So how do you find the right liquid filling line that best matches your production, quality, budget and overall business needs? Good question – that's the proverbial 800lb gorilla in the room! Today, we'll cut through noise and talk with Warren Copper, Sales Manager, FILAMATIC, about the increasingly popular, complete Inline filling system, the ProLINE™ liquid packaging solution.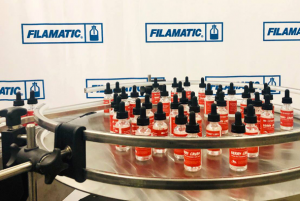 Question:  What is a ProLINE™ system… and what does it do?
WarrenC:  The ProLINE is an easy-to-use, quality and complete filling and capping system that can grow with your business. We can get into the system's scalability a little later, but a solution that has the ability to grow with your business is pretty attractive to our customers. It's not a full Monobloc type solution, but it's also much more than a single filling machine. It's a full-line inline filling system. The system's specialty is accurately dispensing a variety of liquids into containers (glass or plastic) at a premium bpm (bottles per minute) rate.
The system can be integrated with a whole host of ancillary equipment: labeling systems, date coders, as well as TE sleevers and heat tunnels. The capping system will torque the cap and achieve any closing requirements that you need, but it does require one minimal, manual step. That is, an operator will simply place the cap onto the container, then send it down the line (down the conveyor) and the capper/torquer will do the rest. This single step could be the difference between using the ProLINE system or moving up a full level to a more fully-automated Monobloc solution – which can come with a higher price tag. Other than that, the ProLINE is a fully automatic filling system – ideal for a wide range of applications.
Question:  What type of fill volumes can it achieve?
WarrenC:  The ProLINE can dispense from 5ml up to 260ml fills. We've noticed that most applications have a sweet spot ranging from 10ml to 120ml fills, but the range and flexibility is there for other applications.
Question:  Some industries have stringent quality requirements, what type of fill accuracy does the ProLINE™ have?
WarrenC:  We've been a leader within the liquid filling industry for over 65 years – we do liquid filling really, really well! With that said, we have a pretty high benchmark for filling accuracy, so we use our own FILAMATIC piston pumps which comes with a pretty tight +/- 0.5% accuracy rate. We have an outstanding reputation and are well-known across the packaging world, not just in liquid packaging.

Question:  What types of rates can the ProLINE™ achieve?
WarrenC:  To be fair, it varies by product and fill volumes, if that makes sense. Whether your product is water-like, semi-viscous, heavily viscous, it certainly plays a role within the bpm. However, the fill volumes (size of containers), also plays some role into that overall rate. Since we're talking generalities and would need to identify some of those important variables, the typical speed can range between 30 – 60 bpm (bottles per minute).
Question:  Can it fill glass or plastic containers, or even somewhat oddly shaped containers?
WarrenC:  Yes, it can fill glass and plastic containers – no issues. Generally speaking, round or cylinder type containers do well on the ProLINE system. However, one of the more attractive features of the system is it's flexibility, so there is a range of container shapes and sizes that are applicable (upon further review). The system's flexibility and affordability make it ideal for many industries as well as different types of products: Nutraceuticals, Essential oils, CBD oils, Tinctures, Cosmetics, Personal care, different types of Diagnostic products (heated agars, media solutions/etc.), e-Liquids, certain types of Beverages, as well as a host of specialty Chemical products.
Question:  Is the ProLINE™ a cleanroom ready piece of equipment?
WarrenC:  Absolutely… the ProLINE can go into a cleanroom right out the gate! Everything on the ProLINE is pharma-grade steel and designed to be used in a cleanroom. All product contact parts are FDA approved parts as well – this includes the conveyor, the table, the frame, the covers, etc.
Question:  What types of caps and tops can the ProLINE™ handle?
WarrenC:  The ProLINE can handle a range of dropper tips for Boston rounds bottles, as well as flat caps, screw-on caps, and a few other styled type caps. In terms of size… I'd say a sweets spot would generally be between the 10mm to 48mm range. However, it goes without saying that a thorough review of each application makes sense to make sure we accurately identify any/all caps and tops that will be run on the system.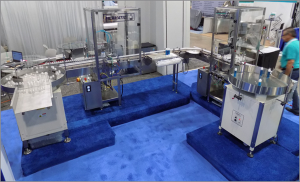 Question:  In an earlier response, what did you mean by the "ProLINE™ is a scalable solution"?
WarrenC:  Ahhh… I see you were listening. The ProLINE is truly a scalable system that can grow with your business. You can purchase certain elements of the system now, and add on additional elements at a later date. For example, you can buy the ProLINE filling unit, and add on loading/unloading tables, as well as the capping/torquing station and any ancillary equipment at a later time. It's truly an 'a la carte' type methodology – based in helping our customers get through different stages of their business growth.
And to show the system's real range of scalable growth, you could purchase the DAB Series handheld Benchtop filling unit… and down the line as you/your business continue to grow, we can add/build around that specific unit (DAB Series) with conveyors, loading/unloading tables, bulking up the filling unit, and adding the capping/torquing station with as needed ancillary items moving forward.
Note, some much older machines may not fit the potential upgrade due to the age of that unit. However, we're happy to review those individual machine with you and make that determination together. Like I said, the ProLINE is truly a scalable solution – it's a GREAT system!
Question:  How difficult is the changeover process?
WarrenC:  The tooling roughly takes 15-minutes to change with basic hand-tools. Of course, there's a slight learning curve, but we've seen operators decrease their changeover time as they become more and more comfortable with setup/changeovers. Generally speaking, the focus was to design a system that made time-consuming changeovers a thing of the past – we believe the ProLINE's flexibility and simplicity does exactly that.
Question:  How easy/difficult is it to operate the ProLINE™?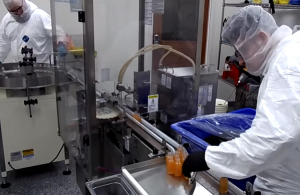 WarrenC:  In keeping with the setup/changeover theme, with proper training and a little bit of hands on time, the ProLINE is an extremely easy system to operate. In following best practices, we believe when purchasing any type equipment, it's always a good idea to plan on participating within the Factory Acceptance Test (FAT) at the conclusion of your equipment (prior to shipping).
During one of our FATs, you'll get ALL the formal training you need from one of our experienced Service Technicians. Not only will that Service Technician guide you through your FAT at our facility, but more than likely, they'll be the ones traveling to your facility to help with the onsite installation (setup & additional training). 
Question:  Does being 100% USA MADE still mean anything to customers?
WarrenC:  Absolutely, it does! For a variety of reasons, some easy to see, some more between the lines, it's definitely becoming a more of preferred requirement – equipment being built in the United States, if at all possible. When you are asked right off the bat, "Do you actually manufacture your equipment … are the machines built in the US?" We can proudly say, "YES!"
Through experiences with customers, we've learned that certain industries may have somewhat less stringent requirements. Therefore, those businesses may opt to source cheaper machinery overseas. However, we quickly hear of horror stories regarding equipment quality, fill accuracy and after sales support.
The challenge that we face in these situations is trying to help businesses with previous bad experiences with liquid filling equipment. Through detailing FILAMATIC's history, reputation, providing contact testimonials and seeing our machinery in action, as well as coupled with the obvious benefits of a US manufacturer (quality machinery, on-hand spare parts and post-sales support), most people start to slowly see the validity and warm up to our overall message. Since our machines are made in America, we're able to provide the consistent, timely support that our customers need.
Like the old saying goes, "you get what you pay for." In the long run, I think we all know that these types of decisions can impact considerable savings as we weigh those tangible/intangible benefits. We're certainly not perfect, but we strive to build long-term relationships based on trust and communication, rooted in quality equipment and timely service. Our feeling is it's simple, nothing earth-shattering, if you have a problem with one of our machines, you can call us. We have a dedicated Technical Support team that's happy to help and answer questions.
In closing, we want to thank Warren Copper for sharing his experiences and insight in helping us better understand the liquid packaging landscape. We also hope that the Q&A session has helped answer a few questions surrounding the ProLINE liquid filling, capping and labeling system. For more information on the ProLINE system, or other liquid filling machinery, please call 866.258.1914 and ask for Customer Service, or email info@filamatic.com.