Sustainable or recyclable packaging has become an important trend for many businesses. However, according to the World Economic Forum, just "14% of plastic packaging is collected for recycling globally" (TIME). Many global corporations including Coca-Cola, Unilever and Procter & Gamble have piloted reusable packaging programs. CleanPath and Blueland, whose entire business model is designed around selling "concentrated detergents and cleaning products that people can mix with water from reusable containers at home" (TIME). What do you really know about sustainable packaging?
Guide to Sustainable Packaging
Did you know plastic packaging accounts for almost 70% of plastic waste generated in the UK? Plastic packaging is the main type of packaging around the world. Many companies in both the US and UK are looking for sustainable and "green alternatives". But do you understand what sustainable packaging really is?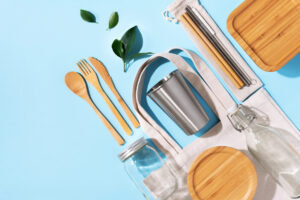 Sustainable Packaging is responsibly sourced and created from materials that belong to a closed-loop cycle, through recycling and recreating packaging, or materials that naturally decompose or biodegrade.
If you are packaging liquids, "recycled paper is a popular sustainable material. Paper materials can successfully hold hot liquids. Biodegradable pouches are a natural option that can be decomposed" (Fill Con).
"In the U.S., states passed groundbreaking legislation to help repair the broken recycling system." This will hopefully continue to encourage and make easier, accurate, the overall collection of recyclable items.
Types of Packaging
Antimicrobial Packaging: Antimicrobial packaging is a newer example of how packaging contributes to sustainability by helping to reduce product waste. However, the development of such packaging is generally expensive and could require major design changes.
Bioplastics: Bioplastics are prepared from biodegradable, renewable resources such as starch, proteins, and polylactic acid (PLA). The number of available products and suppliers has exploded in recent years and bioplastics are being used today in commercial markets across the globe.
"83% of consumers believe that brands should invest in education about the importance of sustainability" (Sustainable Plastics). This tells us that consumers are eager for companies to provide clear direction and support for sustainable issues. Just as many of our customers and industry partners do, FILAMATIC will work with you to review options for new types of packaging.
If you are interested in learning more about packaging, please look at the following blogs:
Specialists in Liquid Filling Systems
For over 70 years, FILAMATIC has provided a wide range of liquid filling machines to the packaging market. We create flexible, customized solutions for every stage of your business growth. Whether you require a single machine, a complete turnkey fill-cap-label solution, or a fully automated, integrated Monobloc system, we have the liquid filling experience for your project.
For more information on liquid filling, capping, and labeling solutions, please call 866.258.1914 or visit – www.filamatic.com/contact-us.