As the coronavirus, aka Covid-19, continues to take shape throughout 2020 and moving into 2021, the packaging industry has been forced to evolve. And given these new business challenges, now more than ever companies are turning to more digital solutions to help increase operational safety and overall efficiencies.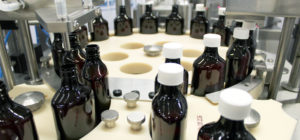 While packaging companies always look to identify and incorporate new efficiencies, they also combat the ever-growing security threats that occur within today's marketplace. New and emerging industries and subsets of those industries have created tremendous opportunities for cybersecurity and associated technologies that now exist to simply protect online assets. The following three technologies are prominent forms of packaging security.
Track and Trace
"Track and Trace" is becoming an essential part of the supply chain. Companies are incorporating methods like radio frequency identification (RFID), quick-response (QR) codes, and IoT (Internet of Things) to track their inventories. These technologies can detect packaging anomalies in seconds and track any stolen or misplaced goods. Some brands are also embedding the packaging with technology to deliver real-time information.
Track and trace technology especially helps protect against counterfeit products in the pharmaceutical industry. It ensures that products, or in this case specific medicines, are being transported and arrive at their destinations (hospitals, laboratories, pharmacies, etc.) with the necessary detail to address industry regulatory requirements.
NFC and BLW
Near-field communication (NFC) and Bluetooth Low-Energy (BLW) are new, innovative methods for tracking and tracing items. These packaging security technologies are simple enough to use on consumer's mobile phones. Consumers can then access information about their packages and deliveries.
Every NFC chip has a unique serial number assigned to the manufacturer, which lets consumers know that they are seeing information about the correct product. At the same time, it is easier for the company to track stolen items.
RFID Tags – Packaging Pucks
Radio Frequency Identification (RFID) is based around a printed antenna with a microscopic chip. This chip transmits a radio frequency signal that tracks products. It can also monitor inventories and improve security.
While we mentioned RFID tags above along with other track and trace tech, RFID is used widely in the packaging industry. The common use of RFID in the packaging industry is on packaging pucks.
RFID tags allow tracking of pucks and containers. This allows for proper labeling and capping, tracking production speeds, and making sure you know where a specific container is on the line. RFID tags can send alerts to a packaging technician to let them know if there is an issue or if something has been moved or misplaced.
In terms of security, an RFID tag can detect tampering. If a tag is tampered with, the signal is lost.
To eliminate future threats, packaging security will have to become smarter and tied to even more intelligent systems. As these technologies evolve, the above three methods will become even more effective, and packaging will become more secure.
Liquid Packaging Specialists
For over 70 years, FILAMATIC has provided a wide range of liquid filling machines to the packaging market. We create flexible, customized solutions for every stage of your business growth. Whether you require a single handheld filling machine, a complete turnkey solution, or a fully-automated Monobloc system, we have the liquid filling experience for any solution.
For more information on our liquid filling machines, please call 866.258.1914 or visit – www.filamatic.com/contact-us.