Whether you need to replace a simple, but hard to find cog in the machine, or something much larger taking months to receive, 3D printed solutions are opening up a world of inexpensive and timely options. Therefore, the buzz still surrounding new and innovative ways of incorporating 3D printed parts is hard to ignore. One of those companies finding new methods of incorporating these technologies into their design is FILAMATIC.
Today, we interview FILAMATIC's own Skyler Shaffer, a Draftsman and resident 3D printing extraordinaire. We discuss how 3D printing is integrated into building liquid filling machines, different 3D printing techniques and the general pros and cons of 3D printing.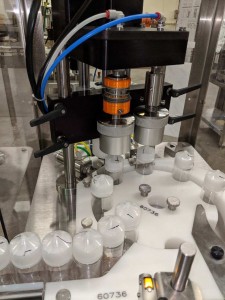 Question: How do you integrate 3D printing with liquid filling machines and the technology surrounding it?
SkylerS: Basically on as needed basis. Applications for 3D printing, also known as additive manufacturing, are more determined by necessity rather than the desire to use 3D printing technology.
The part could be quite complex as well as expensive to create from traditional manufacturing methods. We may also need the part immediately. For instance a typical aluminum pulley can take 4 -6 weeks to get from a partner company. We can make a pulley here in 3 – 6 hours using our 3D printing capabilities and materials.
Question: What 3D printed techniques are utilized at FILAMATIC?
SkylerS: There are a few different realms with 3D printing. At FILAMATIC, we focus on what is known as Fused Deposition Modeling, or FDM for short. FDM uses thermoplastic materials and a heated filament to make the 3D prototypes and end-use 3D parts. FDM heats the thermoplastic to the materials melting point, then it is extruded through a nozzle. The FDM 3D printer will precisely create and build the object layer by layer.
FDM 3D printing has great strength-to-weight ratio and is most common. FDM printing is what most people think of when talking about 3D printers or is likely what they have seen. Our FDM machine is high quality and is applicable in a lot of different industries.
The other two main 3D printing methods that can be utilized in liquid filling, Stereolithography Apparatus (SLA) and Selective Laser Sintering (SLS).
SLS uses a printing powder, typically nylon, and a laser. SLA printing utilizes a resin and UV light.
Currently, we only focus on FDM internally here but we are always looking at new technologies, not just in 3D printing, to help our engineering team be more efficient and effective.
Question: What are some interesting 3D print projects that you have worked on?
SkylerS: We have done anything from simple tubing management clips to whole HMI enclosures. Some of the projects we have worked on include;
A – Orange – We needed to add pre-tension to a spring on a capping solution. This 3D part allowed us to fine tune the cap torquing for this specific job. You would have to order another spring and dedicate more engineering time vs. just 3D printing the solution we came up with.
It wasn't the final solution, but allowed us to test multiple designs and get a machined part that was the best performing. It saved money since we could test the design before getting the part manufactured. It also allowed for a proof-of-concept before we spent money to get it machined out of stainless steel.
B – Beam Style Torque Wrench Torque Chuck (Orange) – We built a torque check for a beam style torque wrench. This so we were able to test the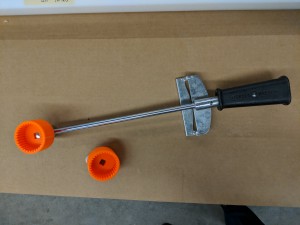 removal torque of a cap.
It was much cheaper and faster than having to torque check manually. You can have similar torque chucks machined but they need special tooling to make. Even in this scenario, we are only making one or two pieces and not a batch of fifty. The tooling for these can be expensiv,e so we decided to utilize our 3D printing capabilities.
C – Netweigh Platten (white piece) – We already knew we needed to design a smooth transfer system, so we can totally isolate the weigh cell from the rest of the machine. The white center piece is bolted to the weight cell. The combs never actually contact the middle piece, so that the transition is smooth for an accurate weigh. The comb design allows for a smooth transition it doesn't interfere to touch any other part of machine.
It was inexpensive to print the netweigh platten. Cost us 10% compared to something made out of light aluminum which would be several hundred dollars.
Even factoring in the design time, we only needed to run through a couple of different iterations to get the transition to be smooth. Within three 3D prints, we created a final 3D netweigh platten that was workable within one of our Monobloc systems.
Wire management (white) – Another good application was a custom wire management cable clip. You could buy something that works but the fitment will not be that great. We designed a wire management piece that was 3D printed. This piece works better, design wise integrates perfectly, and is more presentable to a customer.
D – HMI Enclosure – This was simple in function, less expensive, and is a much tighter package. The HMI enclosure that we 3D printed was able to minimize the packaging size for a more ideal fit and finish.
To get a similar basic plastic style HMI enclosure, it would cost hundreds of dollars. With 3D printing, we get a more ideal fit for less.
E- Orange Tools for the Versa5 – This tool was designed to help torque the syringe needles for getting them on and off the machine. We actually give these tools to customers to make the Versa5 technician's job easier. Trying to tightening and loosen the Versa5 syringes by hand, is quite the effort and uncomfortable.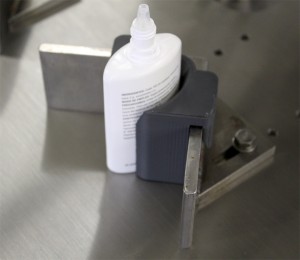 F – Puck Adapter (Grey) – This company in South America was using an oval shaped bottle. We built a puck to define fill location. Since the shape of the bottle was oval-shaped there was a high possibility the fill location would have been out of line.
Without this 3D printed puck a technician could hurt themselves, damage the machine, or make a mess if the fill doesn't go into the bottle. With the puck adapter it eliminated the threat of human error.
For this application, the concern was safety and repeat-ability. We couldn't find anything off the shelf that was going to work. We had to make this puck adapter for the customer. The 3D puck shipped with the machine and is still being used.
Question: Do you use 3D Parts as a solution first, or something that you go to when other parts can't be found or do not work?
SkylerS: We don't look for 3D printing applications, they typically find us. Unless we deem it is a cost effective solution, it is usually a necessity driven choice.
You can actually test that the part is going to work before sinking hundreds of man hours into a part that will not work. If it doesn't work, you can change the design the same day.
We had two engineers working on a toggle to keep bottles upright. Using 3D Printing they were able to do 5-6 designs in one day. Traditionally going through similar designs without the exact geometry would have taken days of design time and trial and error. This saved engineering time and allowed them to get a better solution faster for the customer.
Question: What are some other companies utilizing 3D printing technology that you are aware of?
SkylerS: GE has a particularly complex 3D part on it's newest plane engine, the fuel injectors. These fuel injectors must be 3D printed because of the geometry of the space and engine. It is a very intricate hollow internal structure, and the only way to make these fuel injectors is to 3D print them. GE had no other option due to the size and shape.
We are currently working on a new and innovative laminar flow nozzle design. The geometry available to for us for 3D printing makes it more accessible.
Question: What are the pros of 3D Printing?
SkylerS: It's quick – timely solutions. It's cheap – inexpensive to our customers. It's repeatable – can be duplicated with precision and accuracy.
In some cases, you can make parts and pieces with 3D printing machines where other manufacturing processes cannot.
I can design this on my computer and depending on the 3D printer model it will take anywhere from a few hours to several days.
I don't see it replacing all manufacturing technology, but I do see it as an additional tool in our belt that allows us to do things which were near impossible or extremely difficult before.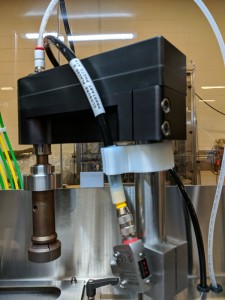 The best thing about this technology, it has matured. Small and large 3D printers are becoming more affordable by the day. To be able to get into the 3D printing space, not a ton of overheard.
We can also 3D print with durable materials.
Question: What are some of the limitations of 3D printed parts?
SkylerS: Where they really don't see a good use is in basically washed down compliant applications. More of the fact they are not ideal for super clean environments.
FDM 3D printing creates a ribbed surface and a bunch of small cavities. If you have a medical application that has to be clean and smooth, FDM 3D printing is not ideal.
3D printing is not ideal for extremely high wear and high temperature environments. Although there are a vast majority of cases it can be benefit us.
As far as large scale production, you are much better off sending these to an injection molding company and getting batches runs made.
Question: Any recommendations on 3D printing for the manufacturing industry?
SkylerS: There are tons of 3D printer options out there, just need to choose something within your budget.
If you are looking to learn about 3D printing, Google is your best friend.
Articles, press releases, 3D printing news comes out everyday. All you have to do is have the desire to find it.
In my mind, 3D printing is for everybody and accessible for a wide audience now. A lot more people are getting into it, even if it is just a hobby or to incorporate into a job. Enough resources that anybody can do it, if you have the desire.
Just hope on the internet and you can find a solution within a half hour. This is not a talent, but a skill, you can definitely learn.
Question: Do customers have reservations regarding 3D printed parts and accessories? Or incorporating the 3D tech into real-time application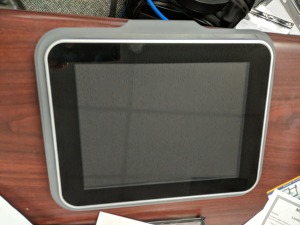 use in industrially environments?
SkylerS: Basically, there is a time and place for everything. 3D parts have limitations for durability in certain applications.
Some people initially had reservations about 3D printed technology when it first came out. Since the parts and products were crude at first. This basically means the finish wasn't consumer or customer ready and it was difficult to get the results you wanted.
Now that technology has advanced rapidly, cost has come down, and quality has drastically improved we have seen much greater buy-in internally and externally for 3D printers.
Question:  Is integrating 3D printing technology/components relegated to bottle adaptors/etc. (ancillary items) related to liquid filling solutions? Or are there already existing items that are much more intricately involved i.e. (nozzles or other more sensitive elements)?
SkylerS: As it pertains to FILAMATIC, the majority of our focus is on ancillary components for the time being. However, it is expanding technology for us and we are incorporating it into more demanding applications.
We are discovering the boundaries of the technology for each application. As usual here, each machine project can present different challenges and we learn new things about 3D printing for these projects.
Question: Moving forward, how do you see 3D printing technology benefiting what you do?
SkylerS: I see it benefiting greatly. 3D printing and additive manufacturing allows us to access capabilities we haven't before and cheapens up our R&D process quite a bit.
Let's you test new ideas without a large overhead. The pros far outweigh the cons. Much more beneficial to have access to the 3D printing materials and services than not have access to technology at all.
It allows us to R&D at a much quicker pace so we can deliver parts, machines, and solutions faster to customers.
______
In closing our interview with Skyler, we see many benefits with the continued use of 3D printing within the liquid packaging industry. During our discussion, we both acknowledged only scratching the surface – there are many different aspects and capabilities of 3D printing as it relates to manufacturing.
To summarize, some of the advantages of 3D printing for the liquid filling industry;
• Great for making single-use parts at a low cost.
• Not as many geometric limitations, since you add layers, you do not remove material.
• 3D printing comes at a lower cost compared traditional manufacturing where tooling is required, and you would need to do large batch runs.
• Great prototyping new designs and making sure certain geometry works before putting that part into production.
FILAMATIC is proud to continue being an innovative leader within the liquid packaging industry. For more information on FILAMATIC's liquid filling solutions, please call 866.258.1914 and ask for Customer Service, or simply email info@filamatic.com.