Designing and building liquid filling machines that tackle complex applications is no easy task. For over 65 years, FILAMATIC has been at the forefront of the liquid packaging industry – providing customers with quality, affordable and cutting-edge liquid filling solutions.
Through the years,  FILAMATIC has gained invaluable insight into the design process. Today, Keith Grayson, Senior Mechanical Engineer, will be sharing his thoughts and knowledge on the design process as it relates to liquid filling machines.
Keith has been with FILAMATIC for more than 12 years and comes with a great story and background. He started out as a draftsmen, went through night school, received an engineering degree from Johns Hopkins University, and has been working as an engineer ever since. Through that time… he's seen a lot, but besides liquid filling equipment, Keith has some interesting experience with induction heating and ultrasonic equipment.
First steps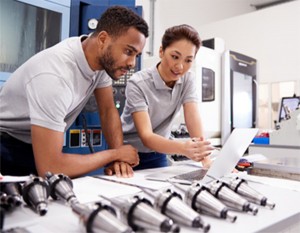 The first step in his design process is carefully reading the proposal. This gives the engineering team a road map, a clear picture of what the application involves with customer requirements during the inception of the project. This gives the engineering team an idea of what type of solution best fits the application. As Keith remarks, "I like to think about all of the aspects of the design before starting the actual design process.
We will also make an initial point-of-contact (POC) with the customer so they know who we are, and lets them know who to contact if they have any questions. This is also done to include them in the design process. At this point, we try to get answers to any questions we may have about the system or design requirements."
Keith confirms he prefers to visualize the image before he starts drawing anything. He quickly remarks, "Whether with a pencil and paper, or within a 3D modeling program … that's when things can get fun."
Design considerations
"When we are designing and building machines, you have to take into account all aspects of the system such as the speed, size and variation of bottles. Sometimes there can be 5 or more different bottles on a single monobloc, or some other type of intermediate machine, and you need to be able to accommodate all of these for the customer … it can be incredibly challenging", says Keith.
In addition, we know that you need to keep in mind the centipoise (viscosity rating), type of liquid as well as the volume going into the bottle.
Hey says, "location of product tanks is an important factor when reviewing pump and nozzle design requirements and options. Whether a product tank is on the floor vs being mounted overhead, it effects the design … valve type pumps and nozzles would need to be incorporated into the design if the product is being feed by gravity (overhead tank). Non-valve types of pumps and nozzles work fine when you are pumping from the floor."
"We like to be careful to consider all aspects of the system design. This way we deliver the best liquid filling solutions for our customers", Keith confirms.
All about education
"Education is an important piece of the design process. For some of our customers, this might be their first piece of automated liquid filling equipment that they purchase. We like to get them thinking about their filling process – sometimes our customer's come to us with a blank slate… sometimes they have something in mind as it relates to how to fill their product", says Keith.
Keith recalls a specific customer that had bought a machine with ten pumps. When he was talking to the customer, he found out that their current filling system had a problem with constantly leaking nozzles. Keith asked where the product tank was located; he was told it was up on a mezzanine – about 10 feet above the machine. This was causing the liquid product to have a heavy head pressure which can/did cause the nozzles to leak. After this communication with the customer, he changed the pump and nozzle design to include valves. This prevented leaks on customer's new system.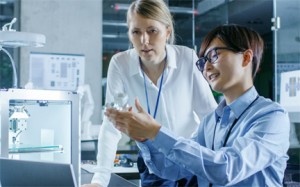 Other times explosion resistant product filling machines come into play. We ask the customer to send us the MSDS (Material Safety Data Sheets) for all the products they plan to run on the proposed new system. We do this so we have a clear understanding of the liquid properties and how best to fill the containers. If the product is flammable, it may or may not need special design considerations. Sometimes we will recommend they check with an insurance company or ask for more details to understand what is being handled.
Again the key is really customer communication and education. We need to clearly understand their application and overall expectations, so we can continue exceeding expectations as it relates to their end-solution.
Keith notes, "When I get the 3D model finished, I send the customer screenshots of their system before they come in for a design review. If they have some things they want to change, before we finish up design, there is still time to make adjustments as needed."
Design reviews
On the topic of design reviews, this is when we go over the complete system design and make sure we meet all the customer's requirements.
It is a good opportunity for the customer to provide us feedback. It gives them the opportunity to make changes before we start releasing parts to be manufactured.
We make sure they have everything included that they were expecting. The customer can say, "We wanted this", sometimes it means a change.
3D printing has been a great asset for our design process and for production. We can make sure certain parts were designed for the machine before putting them into production.
Bottom line, it is always good to have a design review with customers.
Do machine looks matter?
Over the years, we have changed the looks of our liquid filling machines but this is mostly due to building them better and making them more sturdy. We used to use welded tubular frame guards which were quite expensive.
We decided to switch to a stainless steel bent-up frame, it is somewhat similar to an erector set. We are able to use a more standard version, compared to the custom frames, and these are just as sturdy and are a cost savings for the customer.
We have found in the design process for some companies, aesthetics are very important. We do have competitors that place importance on this but that comes at a higher cost.
With 3D modeling software, we can provide images of what customers are getting much faster. If we have a current tooling design, we are now able to revise the dimensions of the 3D model for a new bottle or container, and all the 2D details will automatically change to the new bottle dimensions for the tooling. This saves a tremendous amount of drawing time.
Design process time-frame
Initial drawings usually only take me a week or so. I use many of the existing FILAMATIC solutions and tend to have a good memory for finding what we have done in the past. If someone gives me a bottle, "That is the same as this bottle." I'll get those drawings together and make adjustments for the new machine. Obviously each machine and customer has different design considerations.
The design process for our fully-automated monoblocs can be up to one year. The more usual lead time is 6-months. More often it is the customer that has difficulty getting information to us in a timely manner. We can't move forward on certain parts of the project if we don't have certain information to work from.
How exotic the machine is and what other components, labeling for instance, are going into it that are being incorporated make a difference too. It varies from machine to machine and what type of project we are working on.
Interesting projects…
One particular machine that stands out in my mind is something my colleague Peter VanDeGijn, Chief Mechanical Engineer, did a few years ago.
It was a continuous motion filling machine that put stoppers on the bottles, put the caps on, and torqued the caps. It was designed with a slip ring and electrical connections at the indexes. This machine did 160 bottle per minute (bpm) and was very impressive piece of machinery.
The most interesting project that I have worked on at my time here was a detergent filling dispensing machine. It was a good idea but… the concept just didn't take off.
This was for a company based in Mexico and the idea was instead of detergent bottles you throw out, you have a detergent bag. If you wanted a liter of detergent this was similar to a vending machine, i.e. you put a container in the machine and fill the detergent bag.
You pay for laundry detergent in the store, instead of shipping bottles all over the country and having those get thrown away. The idea was to save on shipping, packaging and waste.
The company was going to make the bags to fill the laundry detergent. We ended up building twenty machines for them, and they went all around Mexico.
Perhaps this company was just ahead of the times? The concept might work today, as people are much more conscious about being green and environmentally-friendly these days. Especially products and ideas that reduce waste and consumption.
In closing, we hope this article gave you some additional insight into the overall design process. As you could tell from Keith's comments, we were only scratching the surface as it relates to his overall design process. Given the design process can be encompass so many other variables, there may be reason to consider a "Design Process – Part#2″… stay tuned!
FILAMATIC is proud to continue being an innovative leader within the liquid packaging industry. For more information on FILAMATIC's liquid filling solutions, please call 866.258.1914 and ask for Customer Service, or simply email info@filamatic.com.