From beverage companies, to snack businesses, and even cosmetic corporations, the consumer goods industry is doing much more than just manufacturing our favorite products—they are working to make our environment cleaner and safer.
There has been a lot of talk recently on biodegradable bottles, but not much to show for it; until recently. By partnering up with experts across many industries, Carlsberg, a Danish brewing company has made the idea of biodegradable packaging a reality.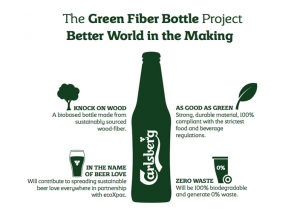 Carlsberg has developed a one-piece bottle with an inner coating that prevents the bottle from leading product and allows for normal shelf life of their beer. The kicker? Instead of the traditional glass and plastic materials we see stocking the shelves, Carlsberg's innovation will be made with sustainable wood fiber—the first ever 100% biodegradable bottle of its kind.
Today, packing is much more than what contains a product, it has become a sphere for environmental innovation and design leading the world towards a more sustainable future. Filamatic is proud to work with partners across a wide range of industries who partake in environmentally friendly practices to ensure a better tomorrow.
Check out Fox News for the full article!