I know what you're asking, "What's so important about nozzles?" Funny you should ask, we're going to discuss some of the most important parts to a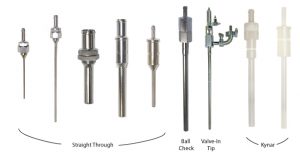 liquid filling machine, nozzles. To the eye nozzles may seem mundane or straightforward, when in reality they are a vital element to the machine's performance. A nozzle is a device that is designed to control the direction of the fluid flow as it exits the filler into a container, makes sense. However, that's where simplicity ends and things get a little more interesting… Available in a variety of designs to provide drip-free, foam-free, and string-free fills, these nozzles are made of 316 stainless steel or Kynar.
First, the Straight Through nozzle has a standard nozzle design that is used with a majority of liquids. Then, the Ball Check nozzle has a built-in check valve which prevents dripping when filling low surface tension liquids. Finally, the Internal Valve Tip and External Valve Tip nozzles provide positive cut-off for drip free, string-free filling.
Generally, larger fill volumes require larger nozzle sizes.  Depending on the container opening, the fill speed can often increase if a larger nozzle is used.  However, too large of a nozzle can introduce dripping.  The best way to determine the largest size for the container without dripping is to get the product tested.  When bottom-up filling is required, the length of the nozzle is determined by the container height.  Nozzles are connected to the product supply using a barb fitting or a tri-clover connection.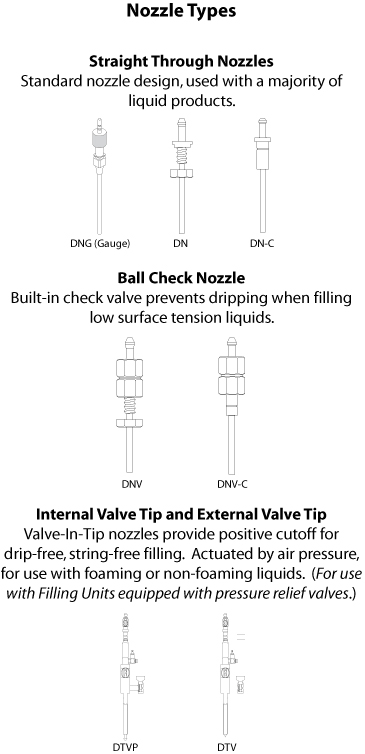 With over 60 years of liquid filling, capping, and labeling experience, it's obvious who your true, tried, and trusted liquid filling partner should be… Filamatic provides the widest range of liquid filling capabilities and industry experience while delivering the lowest cost of ownership for our partners. For more information regarding nozzles or Filamatic liquid filling equipment, please email info@filamatic.com or call 866.258.1914.