Filamatic will be exhibiting at this year's Interphex pharmaceutical tradeshow held at the Jacob Javits Convention Center, New York, NY on May 1st-3rd. Take advantage of our special Interphex promotion—visit booth 2828 and receive 10% off of your semi-automatic Benchtop order. Also for the month of May, you will receive free shipping and a free Benchtop spare parts kit.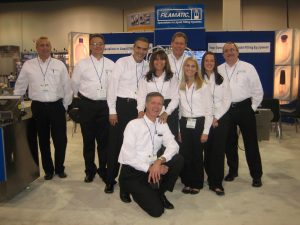 Filamatic's booth will feature an interactive experience for the pharmaceutical, diagnostic, and biopharmaceutical industry. Attendees are encouraged to bring any liquid filling projects/applications to the booth and search through our interactive kiosk in order to view similar applications.
In addition, Filamatic will be displaying the AdaptaFil® — the versatile, semi-automatic HMI touch screen Benchtop filler. The AdaptaFil® has the ability to accommodate four pumps (piston, peristaltic, lobe, and gear) on one base, allowing the user to change the pump depending upon the application. The multiple pump options make this machine ideal for filling mLs to gallons and product viscosities that range from aqueous to viscous. The AdaptaFil® will use our peristaltic pump which is ideal for Pharmaceutical, Biotech, Diagnostic, and Medical applications where clean/sterile fills are required. With a peristaltic pump, fluid is contained within a flexible tube fitted inside a circular pump casing. Since the pumped fluid contacts only the inside surface of the tubing, complete disposal of the fluid pathway allows for quick and easy clean-up. The peristaltic pump is best used for moderate to large (50 mL to >1100 mL) fill volumes with an accuracy rate of +/- 1%.
This Benchtop filler provides capabilities typically seen on automatic equipment such as saving and copying recipes, data transfers, and servo-driven technology—all in a compact footprint. Wouldn't it be helpful to "see" the HMI from a remote location? How about if a machine automatically emailed or text-messaged service personnel? Real-time data, automatic report generation, alerts, machine-generated text messages and emails are just a few examples of how our packaging lines can automatically deliver information.
If you have any questions or would like to schedule your booth appointment, call us at 410-951-2045 or email info@filamatic.com. We look forward to seeing you there!
Follow us for more Interphex news @Filamatic