Learn how to overcome these types of production challenges with simple preparation and some basic foresight into your application needs. 
Shake, rattle and roll, things you don't want to see happening on your packaging line as your containers try to make their way down the conveyor towards their final destination. However, these are issues that production managers face daily when handling a multitude of containers across their manufacturing. So, how do you fill challenging bottles with a variety of shapes, sizes, opening features, and closing requirements, as they do a dance down the conveyor line? That's a good question, let's keep reading and learn how to overcome these types of challenges.
Comfortable pair of shoes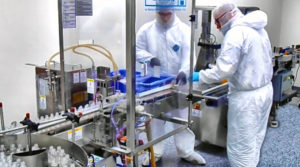 For the seasoned and experienced production manager, the use of pucks, feed-screws, and direct turret placement as solutions for handling unstable containers are as familiar and commonplace as an old pair of shoes. But these common practices or old shoes, if you will, still garner a lot of attention in terms of proven mechanical solutions still being implemented today.
Fashion before function?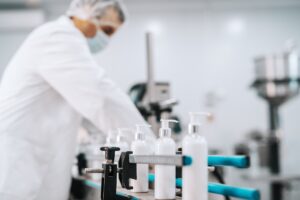 However, newcomers to the vast world of packaging and processing are forgiven for possibly being overwhelmed by the array of common pitfalls that they may encounter after designing a container that later goes wrong. Well-intentioned aesthetics, seemingly necessary features, overaggressive branding, or even cost-based decisions made early in the packaging design process can sometimes result in expensive capital equipment costs, slower automated production rates, significantly increased manual labor requirements, or worse, the dreaded downtime – all because of a container or closure choice that may have been less than ideal to work with.
This is one area where an experienced packaging manufacturer can be a resource in helping to avoid such pitfalls; especially if parties are in discussion and consultation occurs early enough within the selection or design process. But let's go with the aftermath and how an experienced equipment partner can help you mitigate these issues as they arise.
Back to the beginning
So, where do most packaging projects go wrong when designing for stable and low-cost automation? The product-containing portion of the packaging is often the first place to look at. Important points to be considered when choosing a package for automation should include detailed thought about the container footprint, profile, and usually its center of gravity. 
A container that is significantly taller in comparison to the base width or diameter can result in significant stability and tipping issues when traveling down a conveyor or transitioning between two surfaces. Packaging with exaggerated height to base measurements such as tubes, can pose problems and may require expensive and complex equipment for transferring of container from one area to another and may create repeatability and efficiency issues. There are of course ways to overcome such challenges, but typically automation of such container selections can add to the aforementioned challenges and overall costs.
Head over heels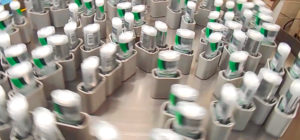 As for other sources of instability, containers with a rounded base design (eg the half-spherical bottom of a common test tube), an uneven bottom surface area, or those with a bottom surface area significantly smaller in width than the majority of the container profile, will in most cases require the use of stabilizing methods such as product-carrying pucks or supplemental conveyor feed screws, and potentially, special handling technologies when travelling from one module to another.
Additionally, the geometry of a package can contribute to the need for special handling on an automated filling line. Small or unusual neck filling areas on a package can restrict nozzle placement when using conventional or existing machines typically designed for traditional containers. Small neck openings on larger containers can significantly increase the time required for dispensing product, due the restriction of maximum nozzle diameter on a filling system. 

The packaging closure or choice of cap has its own stability issues as well. One common occurrence is that the cylindrical container designed with a larger cap diameter in relation to the profile of the container itself. In such cases, one will often observe container stack-up and tipping issues at points downstream – the result of a moving conveyor guiding the containers into each other down the line, while the wider caps at the top will remain temporarily stationary as they are pressed flat against each other. This in turn leads to each successive container stacking up and leaning further backwards – and depending upon the differential in the two diameters, it can also lead to containers grouping and falling over as well.
While these are just a few examples of stability issues surrounding automation of pre-selected packaging components related to containers and their caps; these issues can be minimized with a little know-how from an experienced partner. Perhaps your company may have reached a point where brand recognition is tied to an established packaging choice, and you believe you're simply too far down-the-line to change things up? It happens more than you would think, but as we've discussed with some of the above methods there are always alternative solutions to help you address the challenges of unstable and hard to fill containers.
Specialists in Liquid Filling Systems
With an on-site mechanical and electrical engineering team loaded with decades of packaging experience, the ability to customize and tailor a system to overcome your container stability or handling challenges is exactly the level of service and support that a FILAMATIC partnership gives you. And with over 70 years of industry experience, FILAMATIC can draw from the very simple to exceptionally complex applications from across industries to best reference solutions for your project. In addition to being USA made, the FILAMATIC maintenance and support teams are also local and have the ability to quickly service your needs.
So, whether you require a semi-automatic tabletop filling machine, a complete, automatic turnkey fill-cap-label system, or a fully automated, integrated Monobloc solution, FILAMATIC has the industry experience to exceed your expectations. For more information, please email info@filamatic.com or call 855.258.1914.
Unique performance. Undeniable quality. Unrivaled support. Go further and do more with FILAMATIC – Specialists in Liquid Filling Systems.