An Evolving and Moving Target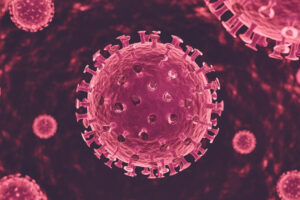 The COVID-19 pandemic and still emerging variants continue to place unprecedented demands on America's health care system. Whether due to new strains, virus fatigue, or the recent holiday season, there is an undeniable, sharp increase in the number of patients needing hospital care across the country. In real-time results, this is producing a new, yet familiar wave of hospitals facing  significant staffing shortages and medical supplies such as testing kits, personal protective equipment (PPE), oxygen, medicines, and hospital beds. 
While this side of the fight goes on… we know that another front is being simultaneously waged with manufacturing and distributing of approved COVID-19 vaccines and test-kits.
Critical and Powerful Partnerships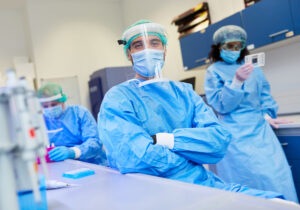 We believe some problems are too big, too complex and the humanitarian need too great – to address alone. So, whether discussing vaccine manufacturers or a multitude of test-kit producers, we see these critical industry partnerships making a real-time difference in the lives of everyday people. To highlight one example of this type of teamwork against the Coronavirus, let's briefly review how FILAMATIC is working with one manufacturer developing a highly sought-after COVID-19 test-kit.
Specialists in Liquid Filling Systems
FILAMATIC designed a Covid-19 test-kit Monobloc filling system that fills and caps four different types of microtubes within a small footprint for one of its diagnostic partners. The fill volumes range from 0.75ml to 3.0ml. In all actuality, the size of microtubes stayed the same with four unique closures or caps.
P-Cap: encompassing foil on the top/bottom accompanied with an O-ring

RSC (Septum Cap): has a foil on top and Septum on the bottom with no O-ring

O-Ring (Wet Swab Cap): encompasses an O-ring and insert

Hard Cap: standard cap with no O-ring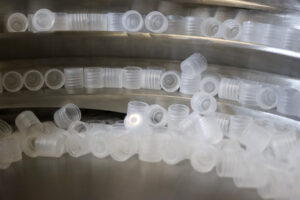 Although the project sounds simple and straightforward when using a single microtube for four caps, the application actually becomes a bit more involved and complications can arise with a multitude of cap/closing variations. Nevertheless, the task at hand was incredibly important and accompanied with a great sense of urgency, so an innovative solution meeting all project requirements was necessary.
FILAMATIC introduced the Fusion2™ system – a fully automated, integrated Monobloc liquid filling, capping and labeling system to execute the liquid packaging portion of this COVID-19 test-kit. With two interwoven vibratory bowls – one for the caps, holding a generous volume of 6,000 caps, and one for the microtubes, roughly a capacity of 3,000 microtubes – with a separate, integrated tube feeding system that allows for continuous production with less time spent by the operator adding more tubes.
Given the global and ongoing demand of these test-kits, the Fusion2 will need to perform consistent, reliable, and accurate fill volumes over hours, weeks and planned months of prolonged periods of production – can do. This same system was also developed with a longer-term vision of flexibility and changeover efficiency that allowed for a variety of other diagnostic applications as this partner moves through the fight against the Coronavirus and beyond. 
Hope on the Horizon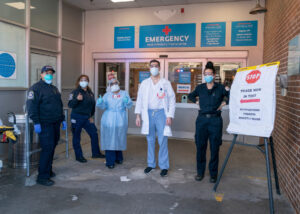 As the COVID-19 pandemic and still emerging variants continues to affect the world, FILAMATIC has been there from the beginning in supporting its pharmaceutical, diagnostic and medical partners in the fight against the Coronavirus. By providing them with innovative, quality, and timely solutions, these organizations are making a direct impact by giving patients the necessary vaccines, test-kits, and information they need to make important health decisions.
So, whether manufacturers of vaccines, makers of test-kits, or companies producing a range of health and personal care products (e.g. hand sanitizer, cleaning agents, etc.), FILAMATIC is proud to support our first-responders and people on the frontlines performing these efforts during these tumultuous times. For more information on Monobloc filling systems or a wide-range of liquid filling, capping, and labeling solutions, please call 866.258.1914 or email info@filamatic.com.