BLACK FRIDAY – 2023 SPARE PARTS SALE
Welcome to FILAMATIC's "BLACK FRIDAY – SPARE PARTS SALE!"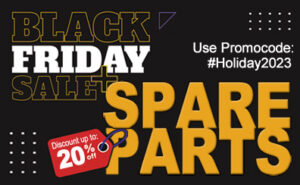 Does your spare parts management program support or hinder your business?
Few areas within your manufacturing facility can sum up the term 'the work behind the scenes' better than the spare parts storeroom. It can be an oasis of opportunity but managing its ongoing considerations can be like playing a game of whack-a-mole. . 
Therefore, a strong spare parts program is important across all manufacturing industries – whether it is heavy industry, process, or assembly driven. We recognize that optimization of these processes has never been more critical than now with a heightened focus on operational efficiencies as continuing with Industry 4.0. Through FILAMATIC's spare parts program, identifying your parts needs is fast, reliable, and cost-effective.
COMPLETE FORM AND GET YOUR SPARE PARTS DISCOUNT TODAY >>
Black Friday Spare Part Deals…
How do I get the right discount off my order?

To receive accurate billing, you must clearly state in your email, telephone, or website form submission

PROMOCODE: #HOLIDAY2023

. This will help your customer service representative apply an accurate holiday discount versus standard pricing.
What is the discount and what spare parts are on sale?

GET 18% OFF ON ALL CONSUMABLES & NON-CONSUMABLE SPARE PARTS.
Are there any other machine or full system promotions during this same time period?

Yes, you can receive a 10% DISCOUNT ON ALL MACHINE ORDERS BEFORE END-OF-YEAR (December 31, 2023).
What other discounts can I get at this time?

GET AN ADDITIONAL 2% OFF WHEN ORDERING THROUGH THE CUSTOMER – SPARE PARTS PORTAL! (TOTAL OF 20%)

The NEW Customer Spare Parts Portal is password protected and ONLY available for FILAMATIC customers. 

If you own a FILAMATIC machine, please contact customer.service@filamatic.com for your customer password:  ACCESS NOW >>
COMPLETE FORM AND GET YOUR SPARE PARTS DISCOUNT TODAY >>
3 Easy steps to make ordering your spare parts quick and easy:
Step#2

:  Complete the Spare Parts form and let us do the work for you!

ALL fields are important to complete to get you exactly what you need.
Step#3

: 

ATTENTION

: Be sure to identify in your email, telephone call, or your website form submission the specific, current promocode (

#HOLIDAY2023)

to get an accurate invoice.
NOTE:  If you are unsure of what spare parts are required for your machine (consumables or non-consumables), please submit a general request spare parts/spare parts portal form and note that you need further assistance with your spare parts purchase. We would be happy to help you with your spare parts order. 
For over 70 years, FILAMATIC has been providing industry leading liquid filling equipment, as well as quality and timely spare parts. We are proud to support our partners before, during and throughout the life of your liquid filling equipment. FILAMATIC continues to follow best manufacturing practices and has a long list of available spare parts for our industry partners; it's a great time to plan ahead and secure tomorrow's business today.
COMPLETE FORM AND GET YOUR SPARE PARTS DISCOUNT TODAY >>
For more information on spare parts or program details, please complete the side form and a Customer Service representative will contact you shortly.